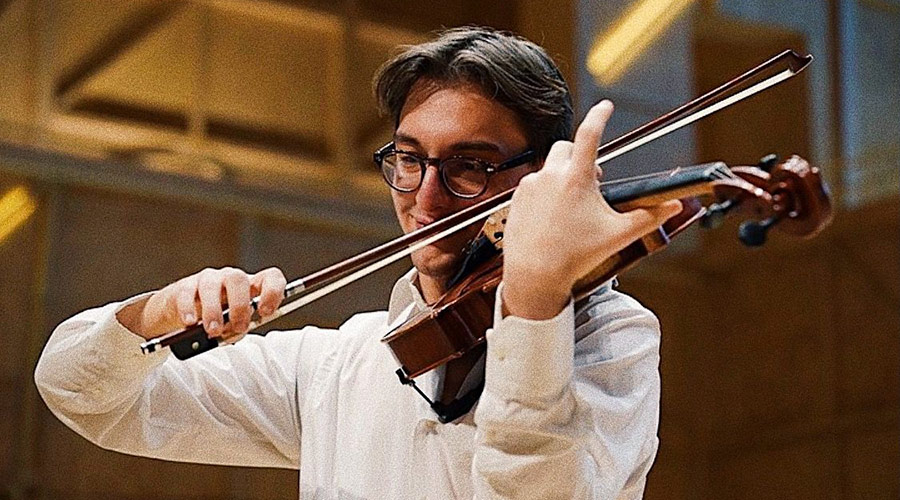 Davide Navelli è nato nel 1998 in Italia. Ha completato gli studi di violino con lode nel 2016 all'età di diciassette anni e in viola nel 2019.
Davide ha partecipato a numerose Masterclass ed eventi presso le più importanti Hochschule fur Musik in Germania (Lubecca, Amburgo, Norimberga, Francoforte) e presso la prestigiosa Forum Artium Academy. Nel 2021 è stato selezionato per partecipare al "Pablo Casals Festival" di Prades e al "Virtuoso Belcanto Festival" di
Lucca, dove ha suonato per Nobuko Imai, Lawrence Power, Wenting Kang e Paul Cortese.
Dal 2017 al 2019, Davide è stato ammesso all'Accademia del Teatro alla Scala di Milano, dove ha avuto l'opportunità di studiare e lavorare con grandi artisti e direttori d'orchestra, come David Coleman, Placido Domingo, Christoph Eschenbach, Ádám Fischer, Manfred Honeck, Fabio Luisi, Zubin Mehta e molti altri.
Nel 2020, Davide ha sostenuto con successo l'audizione presso diverse prestigiose università in Olanda (Conservatorium of Utrecht, Conservatorium of Maastricht e Conservatorium of Groningen) e in Germania alla Staatliche Hochschule für Musik und Darstellende Kunst di Stoccarda.
Nello stesso anno entra a far parte della prestigiosa International Menuhin Music Academy in Svizzera, dove incontra e collabora con artisti come Gabor Takács-Nagy, Gerard Caussè, Renaud Capuçon, Liviu Prunaru, Jean-Jacques Kantorow.